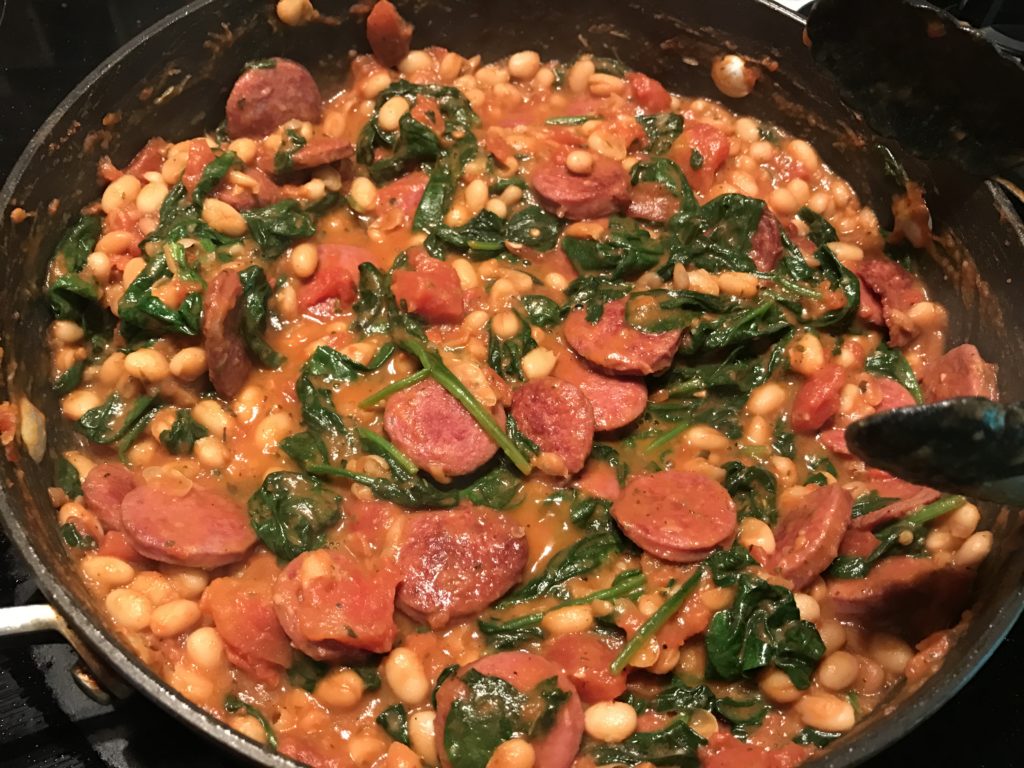 Summer is here even if the season hasn't technically started on the calendar. While it might not get as hot as some places most of the time here in Almost Canada, we do not have air conditioning. Once the weather heats up I try to make mainly skillet dishes or those which can strictly be made on the stove so I can avoid running the oven for long periods of time.
Seeing as how my guy provided us with a bear this year from his last hunting season, we have lots of kielbasa to work with. This dish is super yummy. It's so quick & easy but unbelievably flavorful. This could serve 2 if you both a very hungry but otherwise I'd say it serves 2 for dinner and one lucky person gets left-overs for lunch the next day!
Bear Kielbasa, White Bean, & Spinach Skillet (serves 2-3)
2 bear kielbasa (or regular if you aren't a hunter) about 6in long fully cooked & cut into 1/4 inch slices
small amount olive oil
5 oz spinach
1 can white beans (cannellini, navy, etc) drained & rinsed
1 can diced tomatoes
1 cup beef broth
1/2 tsp each basil, oregano, thyme, garlic powder, onion powder
pepper & crushed red pepper to taste
grated parmesan
Heat olive oil in a large skillet over medium-high heat. Add sausage and cook, stirring, until nicely browned. Add beef broth, cannellini beans, diced tomatoes, seasonings, and pepper/crushed red pepper. Bring to a boil, then reduce heat to medium and let it simmer, uncovered for 15 minutes to allow broth to reduce a little.
Stir in spinach until wilted. Garnish with Parmesan. Ladle into bowls and serve with garlic bread.